Step #10 in The 12-Step Program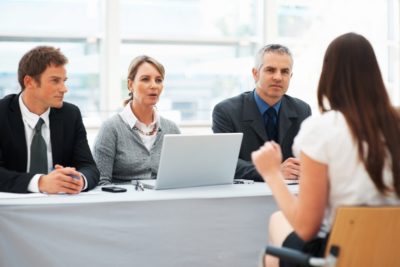 During the 10th step of the World2Work® program you will learn and apply the dynamics of group interviews including practicing mock group interviews on videotape to see how you perform. The caveat is many companies are increasingly adopting group interview formats. Unfortunately, most candidates get flustered when they see more than one interviewer in the room. However, the same rules apply as for the one-on-one in-person interviews.
We will teach you an interviewing technique called "out of left field" whereby you choose mock interviewers to randomly interrupt your group interview. The goal is to keep your composure and continue selling to the group. This technique will keep you from being distracted during an actual group interview.
Our exclusive training helps you better sell yourself during the all-important job interviewing process. These added skills help separate you from the competition and increase your chances of landing that 'ideal' job.
I offer both private, individual coaching sessions as well as attendance in a one-hour virtual coaching and mentoring group virtual seminar at a low, low investment of $19.95.
Book your slot in our next virtual seminar NOW!
Learn more at the Coaching page on my main web site – Strategic Search.
If you are interested in learning more NOW, please contact me immediately at 312-380-9688 or use my Contact form. I know you will improve your interviewing skills and benefit by learning these proven, successful techniques!
Scott Sargis